Tuning your car will most likely be the most rewarding modification that you can do. Without a proper calibration your car is not living up to its potential. Even in stock form a car can see anywhere from 10 to 25 rear wheel horsepower from just a tune, as we cut the fat from the manufacturer's overly protective calibration. You will notice better drivability, better gas mileage, and most notably - more power.
With our in-ground Dynojet Dynamometer we can calibrate your car in a safe environment. This also gives us the opportunity to accurately quantify the gains we make. But the tuning process doesn't stop there. Every car that is capable of driving on the street also gets a full street tune. This includes the idle, part throttle drivability, and full throttle. The fact we street tune increases the safety, reliability, and performance of your car. While dynoing, you are welcome to watch, tape, and even learn every step of the process. In fact, you are welcome to rent our dyno if you are interested in doing your own tuning in our facilities.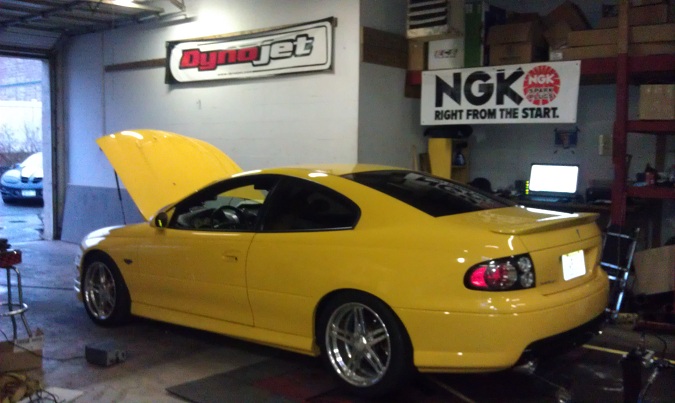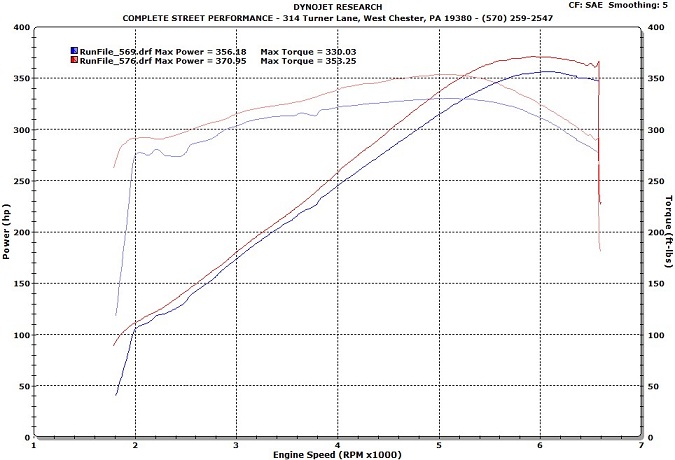 GM V8 Tuning
Most cars - $400
1 Bar Speed Density Tuning - $600*
2+ Bar Speed Density Tuning - $700*
Retuning while in same category (bolt-ons, cam, forced induction, etc) - Half Price
*Speed Density Tuning May Require Extra Parts

Dyno Time - $125 for the first hour, $100 thereafter
3 Pulls with AFR - $75
*Please note "Dyno Time" and "3 Pulls" are not added to the Dyno Tune, it is a flat rate.
---
Ported LS2/LS3 Intake and Throttle Body
The blue line is without the porting. The red line is the ported LS2 intake and throttlebody without a tune.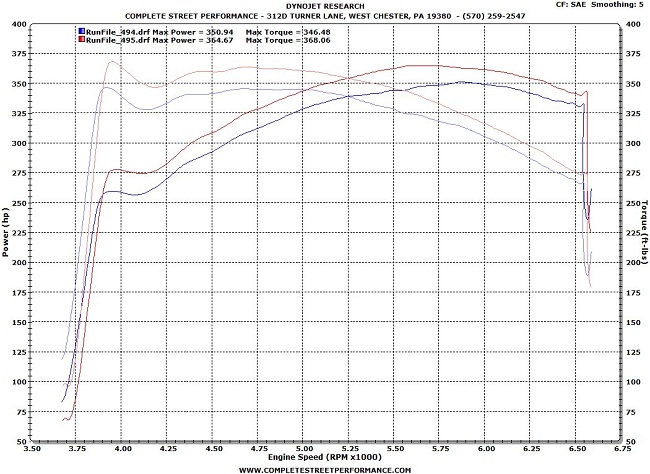 As you can see there is a big increase throughout the powerband around a steady 15-16 hp and tapers off near the peak. Its a peak gain of 13 rear wheel horsepower and 22 rear wheel torque! Again I STRESS this is without a retune or any tuning trickery. Most bolt on cars gain 10 rear wheel horsepower and near 15 rear wheel torque. The highest gain we've seen from just bolting on our ported products was 22 rwhp and 24 rwtq. We have not had a car that has not made gains.
Again I would like to stress, this is without any kind of dyno/tuning trickery. It was the same dyno - the same day - and honest results. Infact we made the change right on the dyno!
Pictures of the Manifold Ports:
The stock LS2 intake manifold was poorly assembled. In the production process, the manifold was fused together creating ridges in the runners that abstruct airflow. Notice the ridges on the unported manifold, these cause tremendous turbulence to the air just before it enters the cylinder. GM was not consistent in their production, so some stock manifolds are better than others, but they all have ridges, and all can be improved upon. Some more than others.
Below you can see that we've opened up the port more and also smoothed those ridges out. We are gaining power from two areas here. First and foremost we've removed the obstruction caused by the ridges. Secondly we've widened the port to better match the heads.
This is a great bang for your buck by far. We also have cores available to send you so you have no down time for your daily driver. As long as what you return to us is in good shape and in a timely manner the core charge is refunded 100%!
LS2/LS3 Intake Manifold Alone - $175
LS2/LS3 Throttle Body Alone - $150
LS2/LS3 Intake Manifold and TB Porting - $325
Complete Package Installed and Dyno Tuned - $700*
*Not Speed Density, $175 Discount for retunes
---
Complete Street also sells resized LS1, LS2, and LS3 injectors. When you get a resized set of injectors you get yourself perfectly flow matched injectors that can almost double your injector size! Don't worry about adapters, special o-rings, or fittings these are stock injectors!
And if we have cores in stock we will send you a set to swap out your injectors so you have no down time. You will need a retune for the new sizes.*
Set of 8 Resized - $300
*There is a 100% refundable core charge. The charge is to make sure we get a good working condition core back in return. Once verified the core charge will be refunded in its entirety.